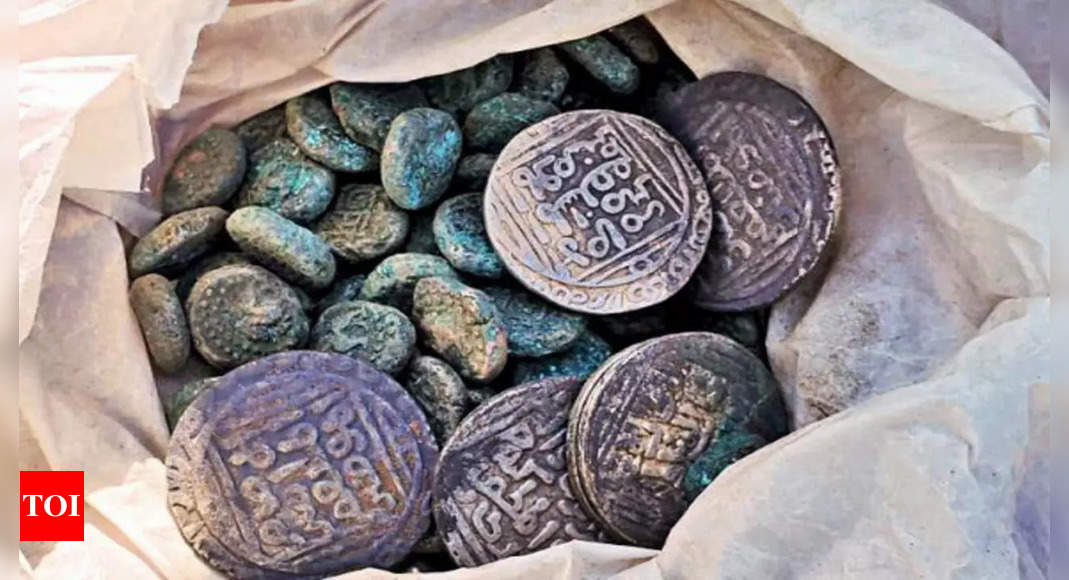 JAIPUR: Eighty-two coins dating back to Pratihara (8-11 CE) and Sultanate (12-15 CE) period have been discovered together from an empty pond in Jamwaramgarh near Jaipur. The coins were found in an earthen pot spotted by MGNREGA workers while digging the pond on Sunday.
Experts have concluded that the discovery of coins strengthens the historical importance of Jamwaramgarh as a flourishing town during the Amber Kingdom in the Sixteenth century.
Based on information received from the site from local officials, Neeraj Tripathi, circle superintendent, department of archaeology and museums (DAM), told TOI, "Interestingly, the coins of pre-Sultanate period are of alloy silver or silver with impurities. It has pictures of horses, bulls and humans typically found during the fag-end of the Pratihara dynasty. The other set of coins are of pure silver belonging to the Sultanate period."
Shedding light on the coins, Zafarullah Khan, former superintendent (excavation), DAM, with expertise in numismatics, claimed that one set of coins belonging to the Sultanate period were from the Ghiyas ud din Balban (1216-1287 CE) era. "The silver coins have the name Sultan Al Azam Balban inscribed in Arabic. While the other coin has Sri of Chauhan Dynasty in Devnagri script," said Khan.
The coins related to the Sultanate era have been recovered from several places in modern Rajasthan in the recent past. The hiding of coins under the land was a very common phenomenon in the earlier periods. The Rajasthan Treasure Trove Act 1961 says the state or the competent authority will have the right on the coins falling in the category of antics.
Jamwaramgarh SHO Jogendra Rathore said they are guarding the pond area anticipating the discovery of more coins. "The coins have been handed over to the Jamwaramgarh Tehsildar as per the rules and until we hear from the government, the pond area will be guarded by us," said Rathore.
Even after 24 hours of the discovery, the DAM was yet to act. The DAM team has neither approached the tehsildar nor initiated the process of acquiring the coins.
Source: Times of India